Dependable Air Conditioning Services For Your Pinellas Park, FL Home
Florida is well known as the Sunshine State. It's a name it earns honestly. While that sunlight is gorgeous, it also means that, almost year-round, your home needs reliable, high-performing air conditioning services to beat back the heat. For over four decades, the good people of Pinellas Park and surrounding areas have turned to one company to guarantee that while they enjoy the sunshine, they always have a cool, comfortable respite waiting.
When you call Harrington AC, you're calling for reliability. You're calling for dependability. You're calling for quality. Our commitment to your comfort has been the bedrock of our work since 1979, and we don't plan on stopping anytime soon. Many of our customers are amazed that the person who installed their first AC unit with us is the same person who came back to install the replacement over a decade later. You can't put a price on that kind of continuity of quality. Don't fall into the trap of hiring an upstart outfit just because they charge a little less. Choose experience. Choose expertise. Choose Harrington.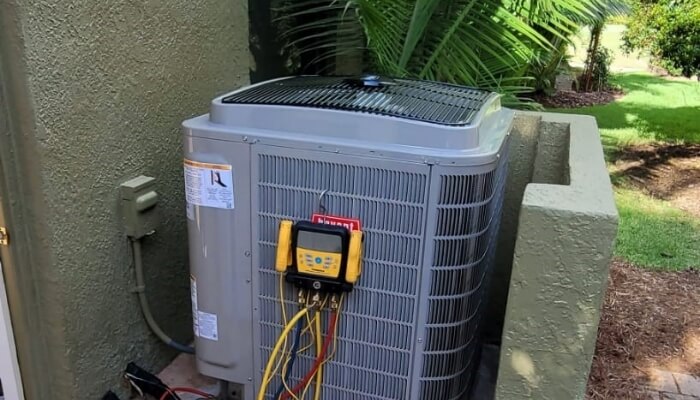 When Your Comfort Is In Danger, Help Is On The Way!
One phone call and you unlock all of the professional, high-quality services Harrington AC provides:
Is there anything worse than watching the temperature on the thermostat slowly climb upward when you know it should be heading down? Air conditioners are complex machines, and while ideally, they'll keep chugging along, when there is a problem you need technicians that can figure out what's up and fix it the right way, the first time.
Maybe your old reliable unit has simply reached the end and needs to be replaced. Or maybe you've never had a central system and you're ready to ditch the window unit. Either way, our technicians can survey your home and determine the perfect new air conditioner for your home that takes advantage of all the latest energy-efficient technology.
Take care of your air conditioner, and it will take care of you. It's that easy. Regular maintenance will not only keep it operating at peak performance but can also catch minor concerns so they can be addressed before they turn into comfort catastrophes. With one of our maintenance plans, you can guarantee annual service and enjoy endless peace of mind.
Heating. Cooling. All in one energy-efficient, effective unit. Heat pumps are a great way to have the best of both worlds without breaking the bank. We may not need much of the heating here in Florida, but it never hurts to have it around and available, making heat pumps a potent option.
It's important to think about the air we breathe. Indoor air can be more polluted than outdoor air many times over, which has a detrimental on your family's comfort and health. Luckily there are many options available to help you combat pollutants, allergens and infectious agents in your home's environment.
Decades Of Experience, All At Your Disposal
When it comes to keeping your home cool and comfortable, you can't afford shortcuts. You need a company willing to go the long way 'round to do it right. That's what's kept us in business since 1979, and it's what will make the difference in your home. For any air conditioning service you need, message us online or call  727-541-5222  today!