Enjoy Endless Cool Comfort With Expert AC Repair & Installation in Pinellas Park, FL
We can't think of anywhere we'd rather be than here in Pinellas Park, enjoying the gorgeous weather of the Sunshine State. Despite that, there are still days when the mercury rises so high it feels like you could pass out just walking out to your car – and the best way to combat that kind of heat is with a professionally installed, well-maintained air conditioner. At Harrington AC, we pride ourselves on being the go-to AC service choice for the people of Pinellas Park, a position we've held since we started back in 1979. We're always learning, always adapting, always bringing in the latest technologies to craft the perfect comfort solution to every customer's individual needs.
Whether you have a system that's in need of a checkup, one that's not working at all or you're looking to upgrade to a newer model, Harrington AC can do the job. We've seen it all and fixed it all, and we're committed to taking care of our customers with the same attention and expertise we'd use with our own homes. Your comfort is important, and you can't trust it to just anyone. Trust it to us. We've got you.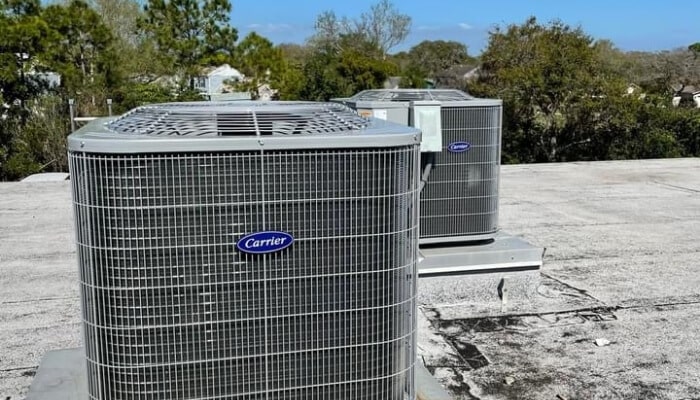 Our Customers Say It Better Than We Ever Could
You can paper the town with billboards, fill the airwaves with radio ads, even air a TV commercial or two – but none of that really says anything about who you are as a company, or the quality of work you do. The only source you can trust for that kind of information is the people who've allowed us into their home to experience Harrington AC's legendary service firsthand. That's why we're so happy to share with you their kind words, so you can get a complete and reliable picture of how much of ourselves we put into our work. We encourage you to explore the information below to see reviews from your neighbors in Pinellas Park and the surrounding areas – and once they have you convinced, send us a message online or call  727-541-5222  to set us to work for you.
Local Reviews
for Pinellas Park, FL
---
Brandy M.
HVAC replacement service call. Customer had ordered new air conditioner installation as their previous unit was over 10 years old. Performed AC replacement and made sure new system was working correctly.
Near

59th St N,

Pinellas Park

,

FL

33781
Brandy M.
Indoor air quality visit. Performed air quality testing in the home; determined that they had poor air quality, mostly due to animal dander and dust. Recommended air purifier to improve overall indoor air quality and scheduled a service call for installation.
Near

77th Ave,

Pinellas Park

,

FL

33781
Brandy M.
Air conditioning installation visit. Customer's current AC unit is over 10 years old, had ordered newer energy-efficient Carrier system. Performed full AC installation, made sure everything was working correctly post-installation.
Near

52nd St N,

Pinellas Park

,

FL

33782