Regularly Scheduled Tune-Ups With Our Harrington Happy Home Plan
Your air conditioning system is an expensive piece of equipment, easily costing several thousand dollars for the unit itself to say nothing of the installation. So why wouldn't you take care of it? Just like you take your car to get the oil changed so it runs for a long time, you need to show your system some regular TLC so it works the best it can. Regularly scheduled air conditioner maintenance can be the difference between a system that runs well for 15 years and one that is beset by breakdowns so often that you have to give your technician a key to your home.
When you sign up for our Harrington Happy Home Plan, you're committing to the long-term care of your comfort system by making sure it gets a once-over from one of our highly trained technicians twice a year. This gives us a chance to make sure everything is in top shape, identify small issues that can be easily corrected and help prevent unusual wear and tear by cleaning and sprucing up your unit.
What Comes With A Harrington Happy Home Plan?
It's not just regularly scheduled maintenance. Signing up for a Harrington Happy Home Plan also nets you many more benefits as well. Included with the agreement:
2 Scheduled Inspections Per Year - Our experts come out to service your system, make sure that everything is in good working order and correct minor issues we identify.
10% Off Parts & Labor - If your system needs a more extensive repair, you save money on having it done.
Preferred Scheduling - Jump to the front of the line with expedited scheduling so you don't have to wait for comfort.
No After-Hours Service Call Charge - Pay the same price after hours you would during regular hours.
No Service Call Charge On Repairs During Business Hours - If we perform your repair during regular service hours, we'll waive the service call charge.
Taking care of your system couldn't be easier.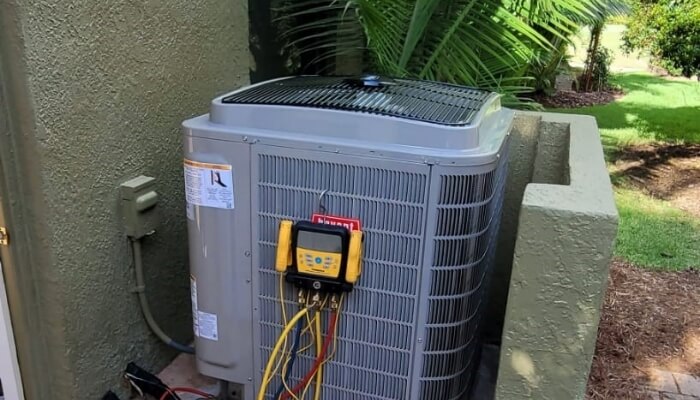 Sign Up For Your Total Comfort Agreement Today!
Regular maintenance. Big discounts. Peace of mind. All for one low price. A Harrington Happy Home Plan with Harrington AC is the closest you can get to guaranteeing your comfort. What are you waiting for? Message us online or give us a call at  727-541-5222  to enroll today!