Old School Values, New School Service
"A Hard Day's Work Is It's Own Reward."
Sometimes there's an unfortunate tension between things considered "old fashioned" and things considered "new and exciting." We don't believe there has to be. At Harrington AC, our values are "old fashioned" - work hard every day, do right by our customers and employees, do your best every time and stand behind each job you do. But our methods are "new and exciting" - incorporating the latest and greatest in comfort technology to provide you an air conditioning experience that keeps you cozy, saves you money and improves your overall health. Putting all of that together has kept us in business for over 40 years, and we see no reason it won't keep us going another 40 - and beyond.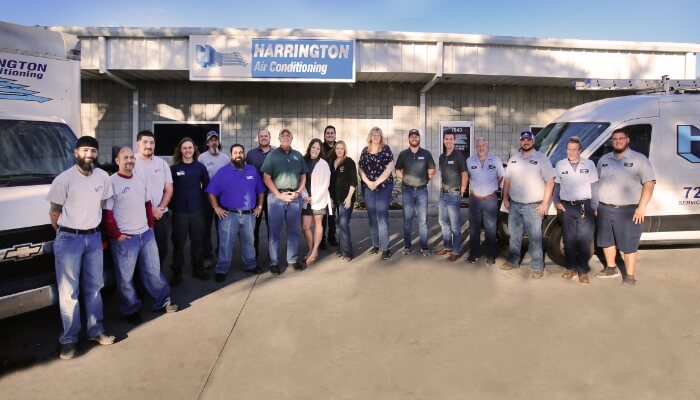 We Didn't Employ A Team. We Gathered A Family.
There's a secret to success that many companies seem to ignore. Take care of your employees, and they'll take care of your customers. It's really simple, but not many put it into practice. Harrington AC is a little different. We only bring in the best people, those who are committed to staying with us for the long haul, providing our clients with a continuity of service that is unprecedented in the service industry. We've had clients who purchased their first air conditioner from one of our agents - only for that same agent to sell them their next 15 years later. That stability translates into confidence in our work that no amount of marketing could prove. We treat your home like our own and always leave it a little better than we found it. Hire Harrington AC, and you're getting the best - and we'll back it up in every single thing we do.
Cutting-Edge Technology. Dependable Service.
Who You Are: Someone that treasures quality, dependability and the knowledge that they're getting the absolute best value for every dollar they spend.
Who We Are: A company that puts our all into everything we do, always evolving to stay ahead of the curve but never forgetting where we came from or losing sight of the good we can do for our clients.
It's a match made in heaven. For all of your air conditioning service or indoor air quality needs, contact Harrington AC. Send us a message online, or call us at  727-541-5222 . You'll be glad you did.